Aloha Doll Ornaments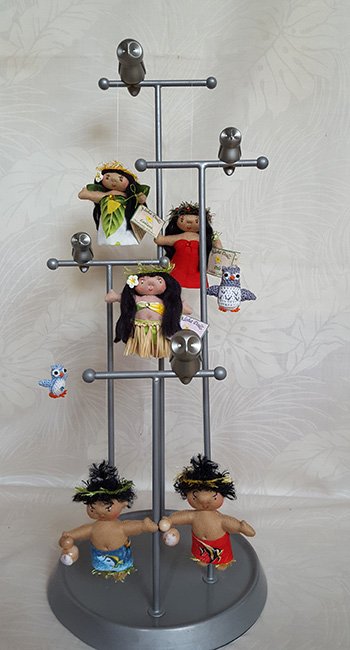 Aloha Nui Loa (with lots of love)
Aloha Dolls radiate the magical spirit of Hawaii to all who are around them.
Aloha Dolls are one of a kind ornament dolls who were individually handcrafted on the Big Island of Hawaii with the greatest love and respect for all that is Hawaii.
They are a miniature simplified version of the collectible Magical Hawaiian Menehune Dolls. Aloha Dolls are about 3" tall. The bodies are made out of stretch cotton and stuffed with high quality poly fill. The eyes and mouth are intricately embroidered onto the face giving each doll a unique personality. Aloha Dolls are made to be handled with love and care. They are not suitable as a child's toy.
They are hung from an invisible loop to add their enchanting grace to any tree and embrace your home with the Aloha spirit of Hawaii.
Aloha Dolls are a wonderful gift to people close to you or to yourself at any time of the year.
Alohi (Love), the Hula Doll
$45.00
$45.00
Showing 1 to 2 of 2 (1 Pages)