The Hawaiian Kukui Nut Tree, Spirit Revealing Itself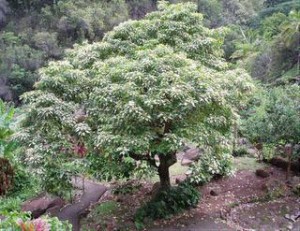 In ancient Hawaii the silvery glow of the Kukui Nut Tree represented light, hope, and renewal.
It was believed that a Kukui Nut Tree planted in front of the house revealed the owners spirit.
Because of its beauty and many uses the Kukui, also known as the Candlenut tree, became the state tree of Hawaii.
Kukui was believed to be one of the kino laus or physical manifestations of Lono, the Hawaiian god of agriculture and fertility. Lono appeared when abundance was ready to be harvested.
In old Hawaii Kukui nut leis were worn by the Ali'I (royalty) to honor the life-giving force of Lono and to show their social status. For them it was like wearing a lei of light providing hope, healing and protection. Hawaiians also used their Kukui seed leis as prayer beads, over time increasing their beauty by filling them with their Mana (spiritual energy).
Kukui Nut Lei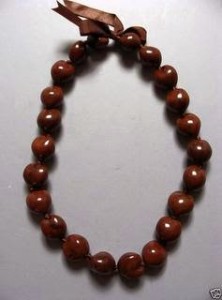 Kukui nuts were used for light, navigation, medicinal, spiritual and many other purposes. Kukui nut oil provided light for the first Hawaiian torches. The oil was and still is used for massages, moisturizing the skin, and many other healing benefits. Early Hawaiians used Kukui nut candles were to keep track of time.
Kukui symbolizes inner light, hope and renewal, spirit revealing itself. The spiritual significance of the Kukui Nut Tree inspired the creation of Kukui, a Hawaiian Menehune Angel.
Kukui (Inner Light), the Guardian Angel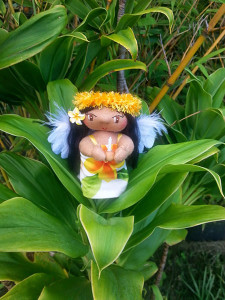 Kukui's Mana (spiritual energy) radiates the power of unconditional Aloha (love). Kukui is a Hawaiian Menehune guardian angel. She is named after the Hawaiian Kukui Nut Tree which represents spirit revealing itself.
Kukui's home is Lanikeha, the high sky. The heavenly light of Kukui's candle illuminates the paths of the Menehune's lives on earth.
The Menehunes know Kukui always watches over them enlightening their lives with her angelic presence. All they have to do is call and Kukui appears offering her wisdom and guidance.
Sometimes she allows them a glance at the healing glow of her heavenly Kukui Nut candle or a glimpse of her angelic white feather wings passing by to remind them how brightly the Aloha spirit is shining from their own souls.
Welcome Kukui as your guardian angel! She is devoted to protecting and guiding you on your life's journey.
Kukui's yellow Hulu (feather) Haku (head lei) represents spiritual strength, unity and love. A white and yellow Plumeria flower adorns her beautiful long black hair.
Kukui wears a beige colored dress with a big yellow and orange Plumeria flower in the front yellow crocheted panties and matching shoes.
A sparkling crystal adorns the center of the flower and the tops of her shoes. She is holding a small Kukui nut with a candle in her hands. Her angel wings are crafted out of real white feathers.
Kukui is about 3.5" tall fitting in the palm of your hand. The body is made out of stretch cotton. The eyes and mouth are intricately embroidered onto the face. Kukui has tiny little hands and feet, ears, buttocks, and a belly button.
Kukui often rests in the serene Hawaiian Ohia forest, worshipping the beautiful world around her. She never tires of rejoicing in the abundant splendor of nature.
Kukui is a one of a kind display doll handcrafted by Hawaiian Dolls. She is a collector's item bringing you the spiritual power of Hawaii. Kukui comes with her story and a certificate of authenticity.
Kukui's Mana (spiritual energy) radiates unconditional Aloha.