He'e Holua, Riding the Waves of Pele
He'e Holua, Riding the Waves of Pele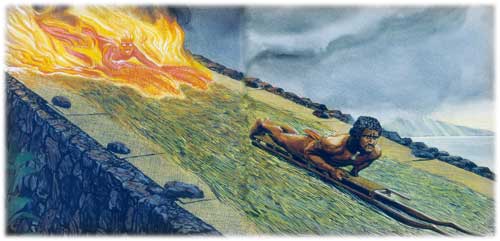 'Riding the waves of Pele' refers to the ancient art of lava sledding in Hawaii. In this 2000 year old athletic ritual the natives risked their lives to honor Pele, the mystical Hawaiian Goddess of the Volcanoes.
Standing, laying or sitting on their Holua sleds they would surf the lava of the volcanic slopes reaching over 50 mph. The Holua sled, 12 feet long, 6 inches wide and 4 inches in depth, was carved from native Ohia or Kauila wood. All the ancient Holua slides were built around Heiaus, altars of worship for Pele, the volcano Goddess.
In Hawaiian mythology Pele, the Hawaiian Fire Goddess and Poli'ahu, the Snow Goddess were said to have been fierce rivals. One well known Hawaiian legend tells the story of Poli'ahu, the Snow Goddess, winning a he'e holua race on Mauna Kea, the greatest volcano on the Big Island of Hawaii, against the Volcano Goddess Pele. Pele was so angry at being defeated that she threw streams of glowing lava at Poli'ahu who calmly brought down storms of snow and froze the molten rock into place.
Pele surrendered and never again stepped onto Poli'ahu's territory on Mauna Kea. The power of fire was pacified by Poli'ahu's calmness.
Hawaii's sacred sledding inspired the creation of Mu, the Menehune Christmas Elf.
Mu's miniature sled was constructed following the concept of ancient Hawaiian sleds.
Mu, the Menehune Christmas Elf
Birthdate: Kekemapa 24th, 2013 (12/24/13)
"Mele Kalikimaka!" (Merry Christmas)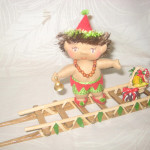 The sound of Mu's (Elf) voice echoes through the forest as he zooms down the mountain slopes on his Holua (Hawaiian sled) ringing his Christmas bell. Mu's Holua is loaded with gifts for his Menehune Ohana (family). There is a basket with the Menehune's favorite treats, Mai'as (bananas) and a big Kahiki (pineapple), but there also is a box wrapped in tapa cloth (bark cloth) with a big red bow. It holds a secret present, a magical treasure which will fulfill somebody's most heartfelt desire.
Mu carries a big surprise for you too. Close your eyes, make a wish and get ready to open your magical gift!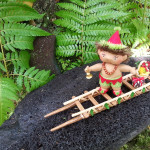 Mu is the Menehune's Christmas Elf. He wears red elf shoes with a matching Santa Claus hat. Mu's Tutu (grandmother) sewed all these clothes for him. She also crocheted his green shorts and wove her Mana (spiritual energy) into the green Hulu (feather) lei he wears around his hat. In Hawaii the Hulu is believed to link to the divine.
Last she draped a Kukui lei around Mu's neck to protect her Mo'opuna Kane (grandson) on his dangerous sled rides down Hawaii's volcanic mountain slopes.
Mu and his Kuku (grandfather) built the Holua together. They carved it out of Hawaiian Kauila wood and tied a bamboo railing with raffia to both sides of the sled. They surrounded the sled with Ti Leaves to assure that Mu will always be save and protected on his Holua.
All these precious things were Mu's Kupuna's (grandparents) gift of Aloha (love) to their grandson.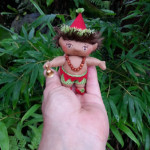 Mu is about 3.5" tall fitting in the palm of your hand. The body is made out of stretch cotton and wired for flexibility. The eyes and mouth are intricately embroidered onto the face. Mu has little hands and feet, elf ears, buttocks, and a belly button.
All accessories were individually handcrafted.
Mu's sister, Poli'ahu the Hawaiian Snow Goddess, weaved the basket for her brother and tied a beautiful, big, red bow with a green crystal to it. Mu often visits Poli'ahu and Pueo (Owl) on the top of Mauna Kea, the greatest volcano on the Big Island of Hawaii. The three of them always have so much fun riding Mu's Holua down the snow covered slopes of the great mountain.
Mu is a one of a kind collectible display dolls handcrafted by Hawaiian Dolls.
His Holua is signed and dated. Mu comes with his sled, story and a certificate of authenticity.
Mu brings you the magical Mana of Hawaii.